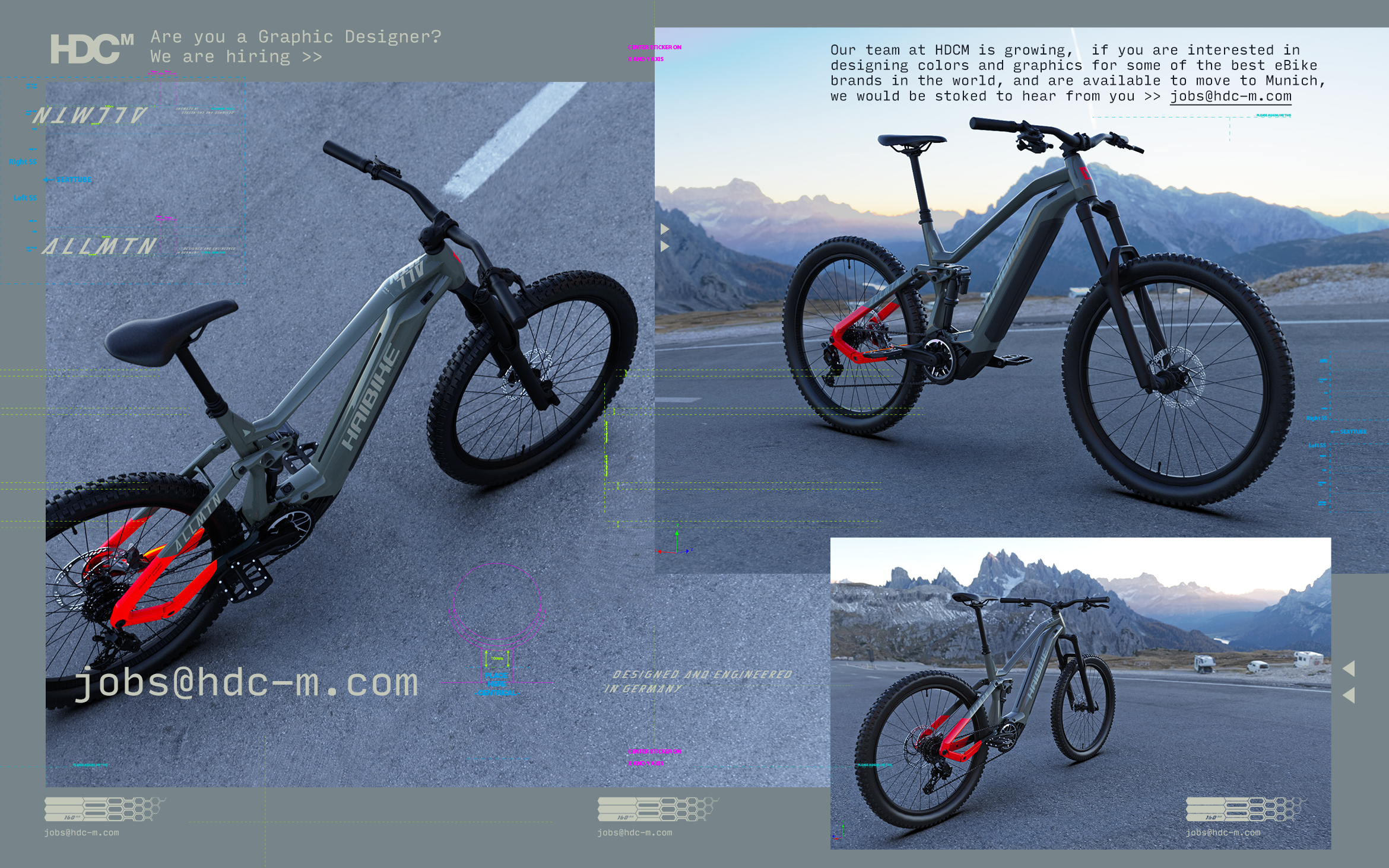 We are a well-connected, multidisciplinary Design studio set in the cosmopolitan city of Munich, a hotbed for creative talent.
We love what we do!
eBikes can really make a positive benefit on the lives of those who use them, and our job is to design these bikes to maximise this benefit. We ride as much as possible on the great trails and in the mountains around Munich and try to understand the products as well as possible in order to constantly make them better. HDC-M was founded in 2016 exclusively for the Haibike brand, but nowadays we are actively partnering with multiple brands within the Accell Group.
Your area of responsibility:
– Create and activate Colour, trim and graphic strategies and concepts for different bicycle brands within the Accell bike portfolio of sports brands
– preparation of final artwork and product renderings for different bicycle brands
– working independently and as part of the team
Your profile:
– expert in Adobe Illustrator, Photoshop and InDesign
– good level in other adobe programs
– team player with a positive personality
– passion for brands
– attention to detail
– high design quality standards
– good feel for typography and images
– passion for bikes and a good technical understanding is a plus
– knowledge and a good working ability within 3D is a big plus
– completed training as a design assistant, media designer, junior graphic designer or completed relevant studies in the field of design and branding
– very good written and spoken English skills
– 3-6 years experience
Our offer:
– exciting tasks for premium bike brands in a friendly team
– open, beautifully designed work environment with flat hierarchies
– development opportunities
– competitive salary
Interested?
Then please send your informative application documents including your portfolio to:
jobs(at)hdc-m.com
————-
Grafikdesigner*in in der Fahrradindustrie (m/w/d)
Über uns:
Wir sind ein gut vernetztes multidisziplinäres Designstudio im Süden Münchens.
We love what we do!
eBikes können sich wirklich positiv auf das Leben derjenigen auswirken, die sie nutzen. Unsere Aufgabe ist es, diese Bikes so zu gestalten, dass sie diesen Nutzen maximieren. Wir fahren so viel wie möglich und versuchen, die Produkte so gut wie möglich zu verstehen, um sie ständig zu verbessern. Das Haibike Design Center München wurde 2016 exklusiv für die Marke Haibike gegründet, aber unsere Verbindungen reichen inzwischen auch zu vielen anderen Fahrradmarken innerhalb der Accell Group.
Dein Aufgabenbereich:
– Erstellung und Ausarbeitung von Colour, Trim and Graphic Strategien und Konzepte für verschiedene Fahrradmarken im Accell Group Portfolio
– Anfertigung von Reinzeichnungen und Produktrenderings für verschiedene Fahrradmarken
– Eigenverantwortliches Arbeiten
Dein Profil:
– Expertin/Experte für Adobe Illustrator, Photoshop und InDesign
– Gutes Niveau in anderen Adobe-Programmen
– Teamplayer*in mit einer positiven Persönlichkeit
– Leidenschaft für Marken
– Aufmerksamkeit fürs Detail
– hoher Design-Qualitätsanspruch
– gutes Gefühl für Typografie und Bilder
– Leidenschaft für Fahrräder und technisches Verständnis sind ein Plus
– Erfahrung in Rendering und 3D Programmen ist ein großes Plus
– Ausbildung zum Mediendesigner*in, Grafikdesigner*in oder abgeschlossenes Studium im Bereich Design
– sehr gute Englischkenntnisse in Wort und Schrift
– 3-6 Jahre Berufserfahrung
Unser Angebot:
– spannende Aufgaben für Premium Fahrradmarken in einem sympathischen Team
– offenes, schön gestaltetes Arbeitsumfeld mit flachen Hierarchien
– Entwicklungsmöglichkeiten
– eine überdurchschnittliche Vergütung
Interessiert?
Dann senden Sie bitte Ihre aussagefähigen Bewerbungsunterlagen inkl. Ihres Portfolios an:
jobs(at)hdc-m.com